Winterize Your Chevrolet near Manassas, VA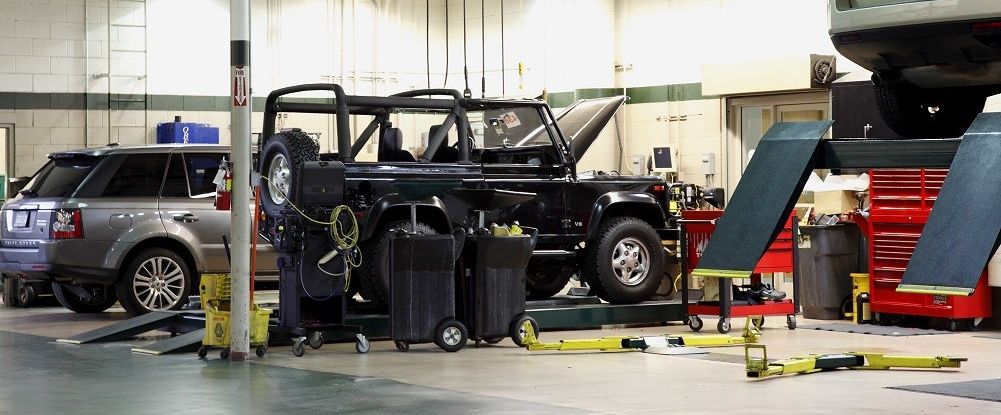 Don't waste any time preparing your Chevrolet when winter is just around the corner. Although many folks don't realize it, winterizing your vehicle is a critical part of maintaining and prolonging its lifespan. You can count on us at Pohanka Chevrolet if you're unsure of what this process involves. Just give our Service Department a call at 703-592-4741.
How Do You Winterize Your Vehicle?
When the temperature drops in Virginia and driving conditions become hazardous, it's time to winterize your Chevrolet. Although the procedure isn't complicated, there are several steps you should take when the road gets covered in snow and ice. To start, you'll definitely want to make sure you install winter wipers, fill up your washer fluid, and maintain adequate tire pressure. If you really want to optimize your vehicle's performance when the weather takes a turn for the worst, you can also mount winter tires, check to make sure your rear window defroster is working, and much more. You're welcome to contact our team of expert mechanics for advice, or you can just bring your ride into our Service Department and let us handle the work for you.
Service Department
If you don't have the time or the equipment to winterize your vehicle on your own, you can always rely on us here at Pohanka Chevrolet. While you're here, we can also perform any other routine maintenance you need done, including oil changes, battery tests, air filter replacements, and much more. You can drop by at your own convenience, but we always recommend scheduling your service ahead of time. That way you won't have to wait in line if we're busy and you can get in and out as soon as possible.
Parts Department
If you prefer handling things on your own, we understand. You might not need our team of experts to winterize your car, but you might still need our Parts Department to acquire the items you need to get the job done. To make an order, you can either call us or navigate to the Parts tab above. Looking for a deal? Check out our current specials! We offer plenty of coupons, so check there first and save yourself some money. If you're not sure what parts you need, fill out our Ask a Tech form and one of our mechanics will get back to you as soon as possible.
If you're ready to winterize your Chevrolet near Manassas, VA, Pohanka Chevrolet is the place for you. We are conveniently located at 13915 Lee Jackson Memorial Highway in Chantilly, VA, and look forward to meeting you!
Service Hours
703-592-4741
| | |
| --- | --- |
| Monday | 7:00 am - 11:00 pm |
| Tuesday | 7:00 am - 11:00 pm |
| Wednesday | 7:00 am - 11:00 pm |
| Thursday | 7:00 am - 11:00 pm |
| Friday | 7:00 am - 11:00 pm |
| Saturday | 7:00 am - 7:00 pm |
| Sunday | 8:00 am - 5:00 pm |
Testimonials
GOOGLE
7-2-2020
GOOGLE
7-1-2020
GOOGLE
7-1-2020
GOOGLE
7-1-2020
GOOGLE
6-30-2020
GOOGLE
6-30-2020
GOOGLE
6-29-2020
GOOGLE
6-29-2020
GOOGLE
6-29-2020
GOOGLE
6-29-2020
GOOGLE
6-27-2020
GOOGLE
6-26-2020
GOOGLE
6-26-2020
GOOGLE
6-25-2020
GOOGLE
6-25-2020
GOOGLE
6-24-2020
GOOGLE
6-24-2020
GOOGLE
6-24-2020
GOOGLE
6-24-2020
GOOGLE
6-24-2020
GOOGLE
6-23-2020
GOOGLE
6-23-2020
GOOGLE
6-22-2020
GOOGLE
6-22-2020
GOOGLE
6-22-2020
GOOGLE
6-22-2020
GOOGLE
6-22-2020
GOOGLE
6-22-2020
GOOGLE
6-21-2020
GOOGLE
6-20-2020
GOOGLE
6-20-2020
GOOGLE
6-19-2020
GOOGLE
6-19-2020
GOOGLE
6-19-2020
GOOGLE
6-19-2020
GOOGLE
6-19-2020
GOOGLE
6-19-2020
GOOGLE
6-18-2020
GOOGLE
6-18-2020
GOOGLE
6-18-2020
GOOGLE
6-18-2020
GOOGLE
6-18-2020
GOOGLE
6-17-2020
GOOGLE
6-16-2020
GOOGLE
6-16-2020
Read More