Winterize Your Car in Chantilly, VA

Don't Let Winter Weather Take You By Surprise!
Summer seems to never last long enough, and although it feels like it was just yesterday you busted out your flip flops, you can no longer deny that winter is just around the corner. You don't want to be caught by surprise, so it's best to prepare for the inevitable snowfall. When it's time to winterize your car in Chantilly, VA, bring it into Pohanka Chevrolet, and we'll make sure you're ready.
Our Service Department is made up of highly trained professionals who are committed to giving you and your vehicle the best care possible, no matter what type of service you need. The first item on their checklist to ensure you're ready to winter is to inspect your vehicle's battery. Cold weather can be tough on it, and the chemical reactions needed to generate power to the battery can slow down during cold weather. Plus, when the temperature drops, your engine requires more current from the battery to get started. We will see if you need a new battery, as well as clean out any corrosion that may have built-up.
The next step to winterize your car in Chantilly, VA, is to change your wiper blades out for fresh ones and refill the wiper fluid. Salt from snowy roads can often times hinder your visibility of the road, and you'll be using that fluid to clear it off your windshield, so you want to make sure you have enough to last all winter. Your tires are also vital during the winter months, as snow and ice can cause unsafe roads. The expert members in our Service Department have information on snow tires that we'll happily swap out your all-season tires for, as they are made from softer rubber to retain flexibility doing the cold. We'll also take a look at the air pressure in each of your tires, since cold weather can cause the pressure to drop.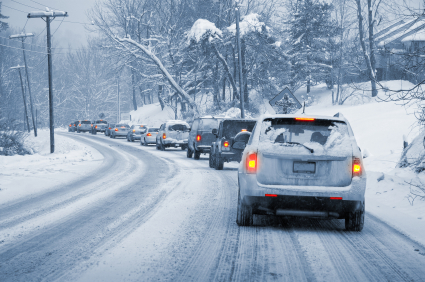 If your vehicle has 4WD, our technicians will also ensure that it is working properly before you rely on it for your daily commute. They will also take a look at the anti-freeze and water mixture in your radiator, and make sure it is at a 50:50 ratio, so your coolant in your radiator doesn't freeze. We also recommend that you stock your vehicle with emergency supplies, because no matter how much you prepare, you still could find yourself in need of help during sub-zero weather. Consider items like jumper cables, a flashlight, warm blankets, an ice scraper, and even a shovel.
Now is the time to bring your vehicle into Pohanka Chevrolet so we can winterize your car in Chantilly, VA. And, since we're open seven days a week with no appointment necessary, it's always a good time to stop in to make sure your car is ready for the approaching snowy weather. See you soon!