Winter Maintenance Checklist in Chantilly, VA

Making sure that your vehicle is prepared for the East-Coast winter months is an essential aspect of owning an automobile. So, if you haven't already, make your way down to our Service Department at Pohanka Chevrolet to get your winter maintenance completed. In the meantime, take a peek at our checklist, so you can make sure all of the pertinent details are covered!
Visibility & Traction
When snow covers the road ahead, the first thing that comes to mind for most commuters is decreased traction. So, make sure to check your tires' tread levels to ensure they are gripping the pavement ahead in an optimal manner. If you haven't rotated your tires in a while, you can always swing by our service bay and we will get your current set switched around in no time at all. Or, if you are in the market for some winter options, navigate to the Tire Center link at the top of your screen and give us some key details about your ride. Then, you will be able to sift at your leisure. Once you have your traction taken care of, you should make sure that your headlights work and you have a fresh pair of wiper blades to clear away any visual hindrances. And, you can spring for a new batch of wiper fluid that won't freeze when the temperatures plummet.
Beneath the Hood
The most important pieces of equipment to take care of during the frigid months can be found beneath the hood of your vehicle. For starters, you should make sure that you receive an oil change as soon as possible to ensure that your components are working in tandem. The last thing you want is to have your engine struggling to roar to life! While we are there, we will take a close glimpse at your battery to make sure it is delivering that crucial initial flicker. After all, cold temperatures can affect its capability, and if ignored, can result in a sputtering engine that requires a jumpstart. Lastly, it is crucial to add some fresh coolant to make sure your vehicle is pumping out plenty of heat to keep you warm.
Essentials
After you get all of the aforementioned steps taken care of, it is important to gather a few essentials in your vehicle to prepare for the worst. We suggest that you bring along some blankets, coats, and sweats, to make sure that you stay nice and toasty if your vehicle doesn't start up. Then, you should bring along a flashlight if you travel in dimly-lit areas, along with a first aid kit, food, and medication. Sometimes, help can have some trouble arriving on the scene to assist, so bringing these things along will ensure you will be covered for an extended period of time. And, it is important to bring a shovel and some cat litter to help you gain some traction in case you get stuck in a snowbank.
We hope that this winter maintenance checklist in Chantilly, VA, is the reminder you needed to travel safely. When you are ready, visit our Service Department at Pohanka Chevrolet.
Service Hours
703-592-4741
| | |
| --- | --- |
| Monday | 7:00 am - 11:00 pm |
| Tuesday | 7:00 am - 11:00 pm |
| Wednesday | 7:00 am - 11:00 pm |
| Thursday | 7:00 am - 11:00 pm |
| Friday | 7:00 am - 11:00 pm |
| Saturday | 7:00 am - 7:00 pm |
| Sunday | 8:00 am - 5:00 pm |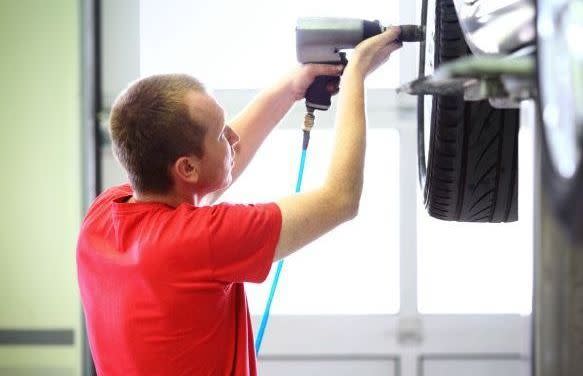 Testimonials
GOOGLE
8-9-2020
GOOGLE
8-9-2020
GOOGLE
8-8-2020
GOOGLE
8-7-2020
GOOGLE
8-6-2020
GOOGLE
8-5-2020
GOOGLE
8-4-2020
GOOGLE
8-4-2020
GOOGLE
8-3-2020
GOOGLE
8-2-2020
GOOGLE
8-1-2020
GOOGLE
7-31-2020
GOOGLE
7-31-2020
GOOGLE
7-31-2020
GOOGLE
7-31-2020
GOOGLE
7-29-2020
GOOGLE
7-29-2020
GOOGLE
7-29-2020
GOOGLE
7-27-2020
GOOGLE
7-27-2020
GOOGLE
7-26-2020
GOOGLE
7-26-2020
GOOGLE
7-25-2020
GOOGLE
7-25-2020
GOOGLE
7-24-2020
GOOGLE
7-23-2020
GOOGLE
7-22-2020
GOOGLE
7-22-2020
GOOGLE
7-22-2020
GOOGLE
7-21-2020
GOOGLE
7-20-2020
GOOGLE
7-18-2020
GOOGLE
7-18-2020
GOOGLE
7-17-2020
GOOGLE
7-15-2020
GOOGLE
7-15-2020
GOOGLE
7-13-2020
GOOGLE
7-13-2020
GOOGLE
7-13-2020
GOOGLE
7-13-2020
GOOGLE
7-13-2020
GOOGLE
7-12-2020
GOOGLE
7-12-2020
GOOGLE
7-11-2020
GOOGLE
7-11-2020
GOOGLE
7-11-2020
Read More